THE DAMAGE OF STAYING GLUE TO NEGATIVE PAST — Bishop David Oyedepo
Satan connects you so much to the past that you can not see anything ahead any more. You think about your car that had an accident and was a write off, you think about the exam you wrote and failed.
But in Isaiah 43:18, God said, Remember ye not the former thing, neither consider the things of old.
If you stay glued to your negative past, your great future loses its colour.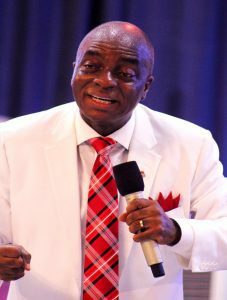 The past is dead! It can no longer be corrected. So leave it in the grave and take the next step forward.
In Isaiah 43:19, God says: Behold, I will do a new thing; now it shall spring forth; shall ye not know it? I will even make a way in the wilderness, and rivers in the desert.
If you won't forget the former thing, you are not likely to know the new things that God is about to do. Only those who are smart enough to bury their past enjoy a great future.
No wonder Paul said in Philippians 3:13-14: This one thing I do, for getting those things which are behind, and reaching forth into those things which are before, I press toward the mark for the prize of the high calling of God in Christ Jesus.
If you do not let the past be past, you are likely to pass away with it. So, bury the past, otherwise you will be buried along with it.
Yesterday is gone; the events of yesterday are past, you cannot do anything about them, you cannot recall them to correct or amend them. They are pasts, so leave them there and look ahead. Go forward!
Every issue of yesterday is irreparable, and this is the answer to it, "Remember not..
"Proverb 24:16 says: For a just man fall seven times, and riseth up again…
You must escape the trap of past failures, in order to enjoy a maximised destiny. The devil comes around to remind you of the negative past, so as to rob you of your colourful future.
Do not give him the chance. If the righteous man falls, he should rise up again, not lie down there on the floor. Brush off the negative past from your memory, and you will see how beautiful life will become.
Rejoice not against me, O mine enemy: when I fall, I shall arise; when I sit in darkness, the LORD shall be a light unto me. Micah 7:8
You are out of place down there on the floor, you belong to the top. If you watch wrestling tournaments, you will observe that there is no world champion who was not once on the floor.
You will never find a general who has no scars. Yet at the end, he has two or three stars on his shoulder.
Stop whining on the floor! Don't wait for the final count, or you will be out of the tournament. Jump up and be back in the contest!
Sometimes, you find blood dripping down the nostrils of the champion at the end of the contest. In spite of this, his arms are still raised in victory as the winner.
If there is anything to remember in the past, let it be your great successes, accomplishments and great results. Your testimonies (not your trials), are what should be kept in remembrance.
Anything negative is not worthy of a place in your memory bank. It paralyses mentality, so don't give the devil a chance to keep it there.
I know an elderly person who never travels in aeroplanes (though he is educated), just because he has seen one or two planes crash in the past. I told him that there are more car accidents than plane crashes.
Everyday, on our roads, there is an accident, yet he would rather travel by road on long-distance journeys, even though he can afford to fly. He has not freed himself from the past, and that has dulled his mentality. So even if something good is waiting for him in Canada, for instance, he won't go! This is just a typical case of how the devil paralyses one's mentality.
PAY ATTENTION: Join our telegram channel>> https://t.me/christiandailypost
PAY ATTENTION: Enter your email address to subscribe to this blog and receive notifications of new posts by email.