LETS TALK ABOUT THIS LEGEND(Archbishop Benson Idahosa).
He was born to non-Christian parents in a predominantly non-Christian community, he was rejected by his father, John, for being frail and sickly. He constantly had fainting spells as a child, and on one of his spells, his mother, Sarah, abandoned him at a rubbish heap presuming him dead. He cried, and his mother was touched by his cry and took him back. He grew up in a poor household. Like most of the surrounding houses, his family home was a mud house. This reality denied him access to education until he was fourteen years old, when he was able to attend a local government school…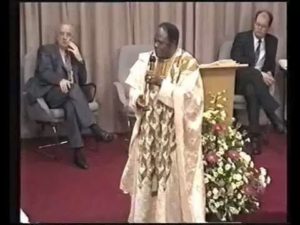 As a youth, he got converted to Christianity by a certain Pastor Okpo, and joined his fledgling congregation as one of its first members. He was very active in evangelism,seeing many come to Christianity. After experiencing a revelation from God calling him into ministry, he began to conduct outreaches from village to village, before establishing his church in a store in Benin City.And from there he traveled round the world.His passion to see souls saved moved him traveled to over 146 countries."I really don't care about the attacks and the challenges I have had in this life, my greatest joy is when I stand before a million people and declare that Jesus is the Savior" this was his very words. Millions came to Christ through his ministry and minister was birthed by his strong apostolic work. We can say that he changed the face of Christianity all over Africa.
Evangelist Reinhard Bonkee Shared his encounter with him, how he made him stand before half a million persons(at Ibadan liberty crusade 1985) for the first time in his life.This enlarged his Heart and made him know that he can see crowds that exceed ten thousand in his meetings.I don't know of any great minister in Nigeria that is not influenced by him directly or indirectly.
The legend Dr Tl Osborne said this concerning him "Benson is a man that knows God as God knows him"He understand kingdom authority and by this he became a force that neither bad government of his days nor occult men could match.
Revd Dr Uma Ukpai told an amazing story concerning this Man how that some men came to attack him in his crusade ground, they throw down bunch of cable wires and it electrocuted half the number of people in his crusade ground, he looked the bodies on the ground and shouted "MASS ELECTROCUTION? NO PROBLEM, LET THERE BE MASS RESURRECTION ,as He said that, all of them came back to consciousness immediately. He was called the greatest African Ambassador by Dr Tl Osborne.
His life reminds me of the verse in the Holy psalms "One generation shall praise your works to another, and shall declare your mighty acts, I will speak of the glorious honour of thy majesty and of thy wondrous works."(Psalms 145:4:5). March 12 1998, he went home to be with the man (Jesus) that He LIVED FOR, IT WILL INTEREST MY READER TO KNOW THAT THE MAN "Smith Wigglesworth also died March12 1947.This day seems to be the day legends leaves. I have also considered it to be my death day. I know that this will challenge someone on this platform. Indeed the memory of the righteous/just, is blessed(proverb10:7). Good morning friends.
PAY ATTENTION: Join our telegram channel>> https://t.me/christiandailypost
PAY ATTENTION: Enter your email address to subscribe to this blog and receive notifications of new posts by email.