YOU ARE GETTING OLD, STOP HAVING FUN– Bishop David Oyedepo
It takes a serious approach to secure a glorious result.
Separate yourself from play boys and play girls and tell yourself, "I refuse to settle with you, I am an eagle, I refuse to be mistaken for a duck"
Life is a business, don't watch your destiny go bankrupt, begin to make adequate investment into your future.
Don't wake up and be walking around, don't be deceived you are young. People at the age of eight, sixteen ascended throne in Israel.
You are getting old. Wake up and stop having fun, three days can change your entire world of serious sitting down.
There is no where I am going that someone has not been there before, so help me to locate Lord, the mentors on my way that will monitor my steps to the throne.
There is nothing new under the sun, there is no calling on my life, that someone have not received before.. When you understand this, it will help you in reaching out effectively, committedly and dedicatedly.
As a growing up boy, when other boys were all on the street playing, I will match my way to the primary school during holidays and sit down there reading all kinds of literature to enhance my communication act because I know what ever thing you are going to do in this world, you will need to be able to communicate it effectively.
There is no free lunch in life, ignorance is a killer disease.
All we gather in school is literacy, we now apply the literacy in searching for relevant information in line with our calling. The real task is outside school.
Late Rotimi Williams was a legal legend, He had a dangerous sense of responsibility, that he was never found going up and down, here and there. He was so focused on making mark in his practice and He became the custodian of the legal system of a whole nation because of an unusual commitment in the pursuit of his career.. THE CHOICE IS YOURS!
Why I give testimony of vibrant believers and men testimony in the circular system is to get you angry.
If someone that does not have an understanding of his covenant right could fly so high..why am I here? You are there were you are because you won't do what you should do..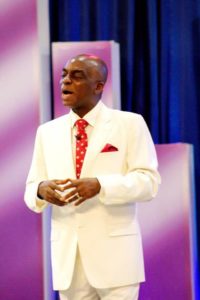 SUCCESS COMES BY ENGAGING YOUR SENSE POSITIVELY
Success does not demand prayer and fasting, as much as engaging your sense positively. Man's brain is the myth behind all his gains.
Every gain in life is a result of the use of the brain. No one reigns in life without the use of the brain. It is the effective use of the brain that secures you a throne here on earth.
Every star in life is essentially sense-made. Height in life are results of insights inside of a man.
Success, therefore, is a product of the right use of the senses. No school has a Faculty of success. It is the use of the sense that commands success.
Supernatural intelligence therefore calls for extreme attention.
WHAT YOU MUST KNOW ABOUT THE MIND AND SPIRIT
Unfortunately, many Christians think that the spirit of a man is more important than the mind. But I would like to let you know, that your mind is as important as your spirit. For instance, you cannot be saved without your mind. John 1:12 says:
But as many as received him, to them gave he power to become the sons of God, even to them that believe in his name:
The place of "believe" is not the spirit, but the mind.
To believe is a product of conviction. What you are saying is, "Based on these facts, I agree". In fact, "believe " can be defined as mental assent. That is, "I concur. I agree. With these facts at my disposal, I now accept Jesus as my personal Lord and Saviour. "
That is why we can safely say that your mind is the gateway to your life. Nothing gets to you without first passing through your mind.
When the Bible says, "keep thy heart with all diligence; for out of it are the issues of life" (prov. 4:23), it is talking about paying absolute attention to your mind, because your mind determines your ultimate worth in life
PAY ATTENTION: Join our telegram channel>> https://t.me/christiandailypost
PAY ATTENTION: Enter your email address to subscribe to this blog and receive notifications of new posts by email.